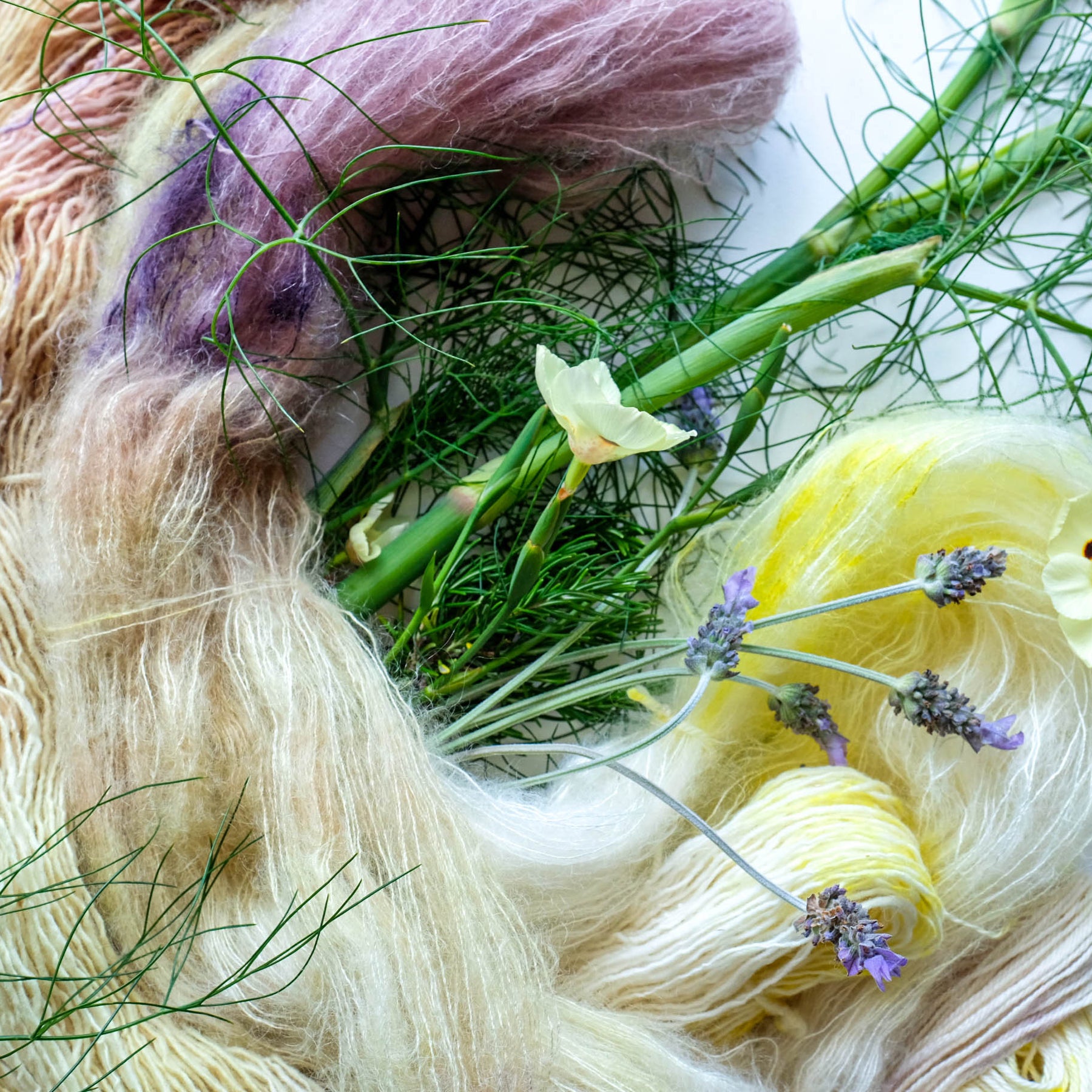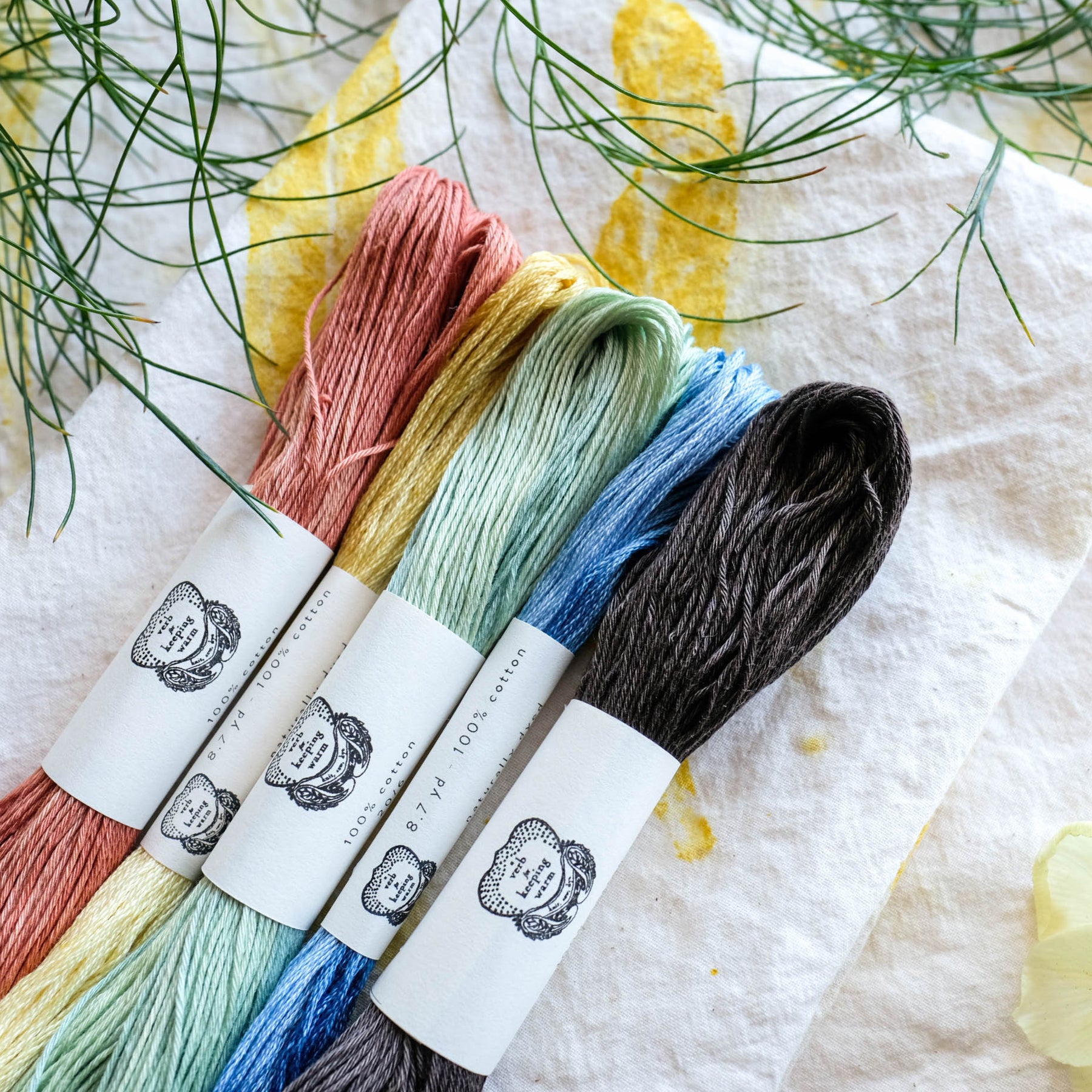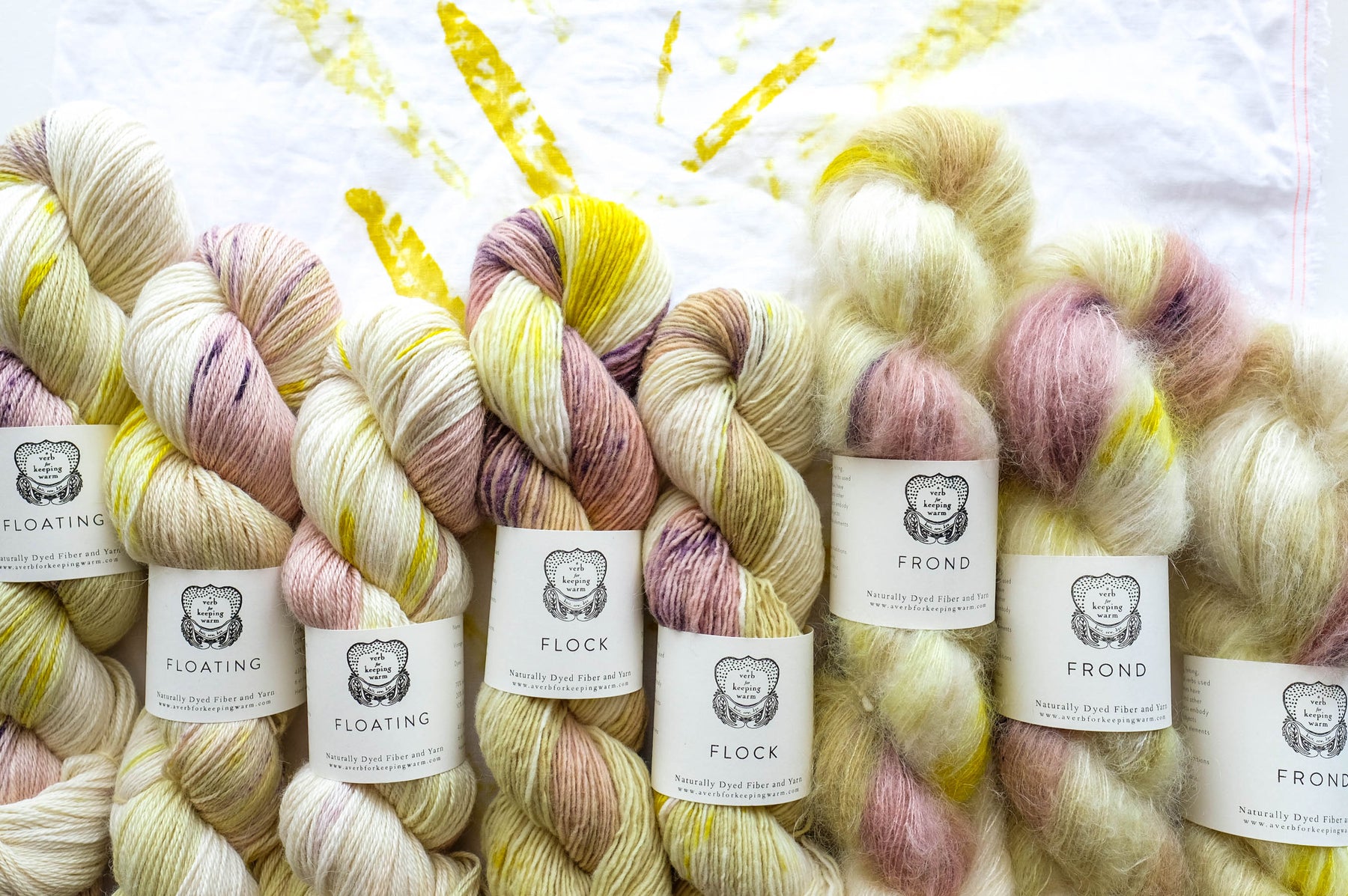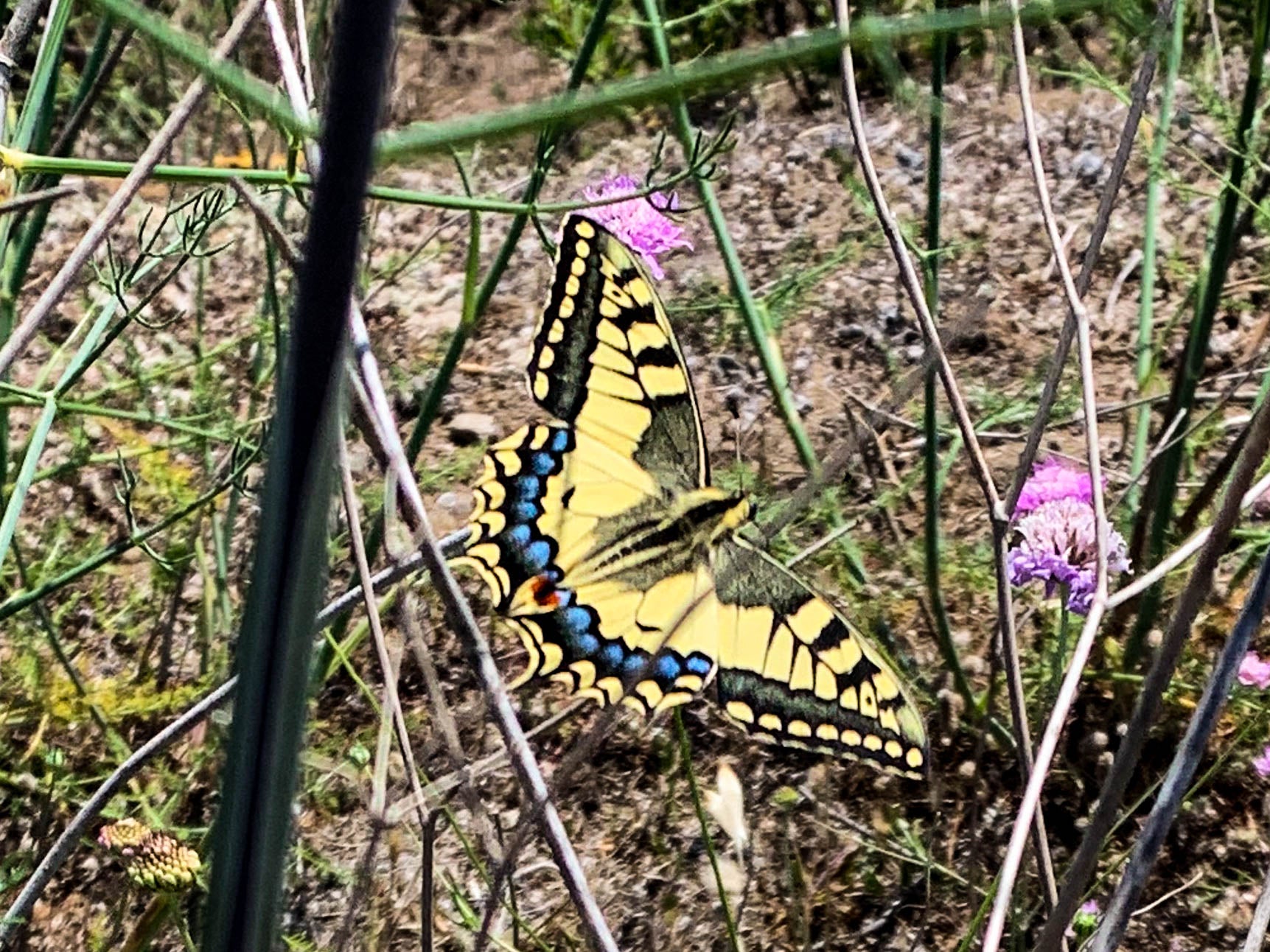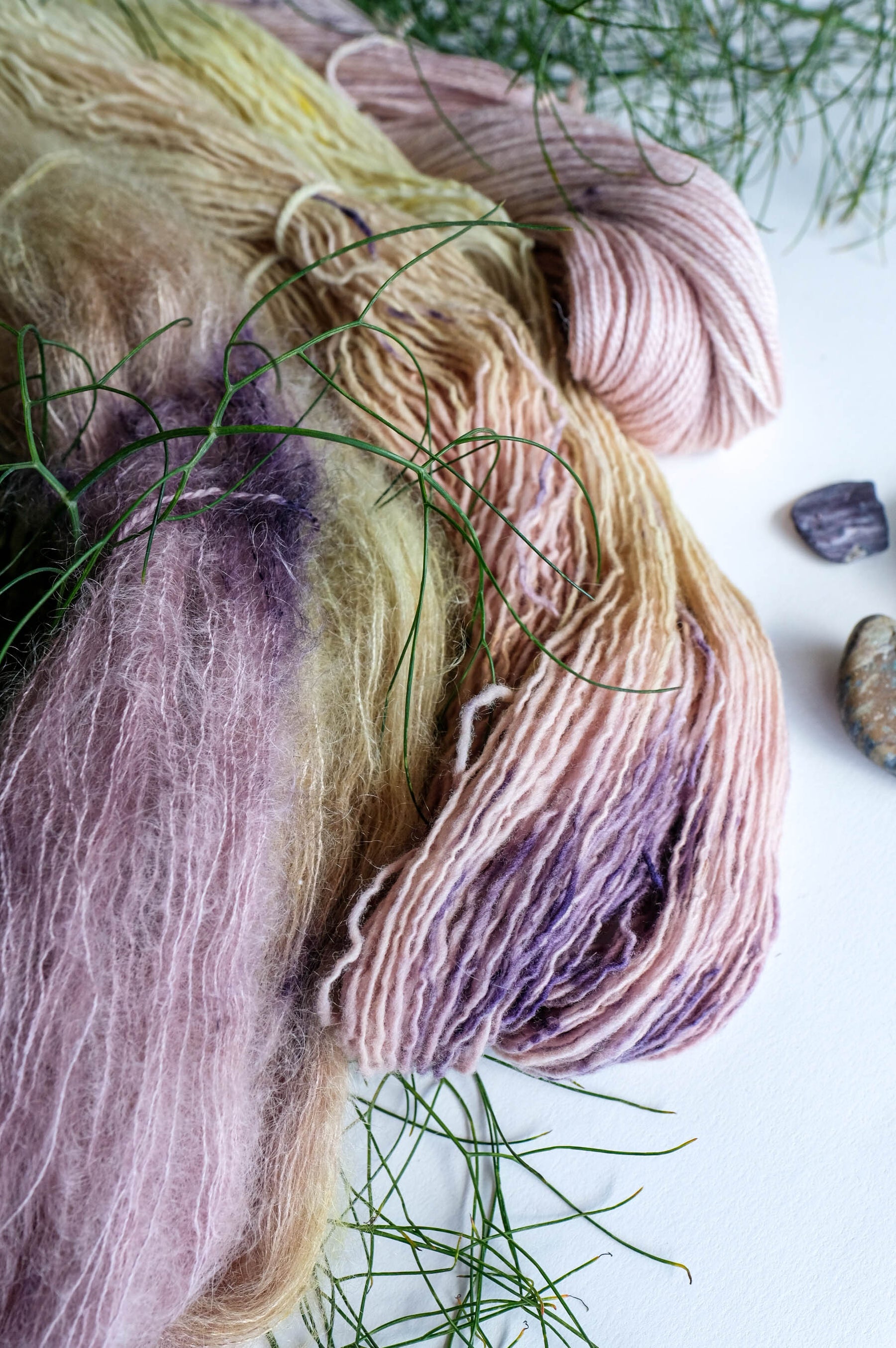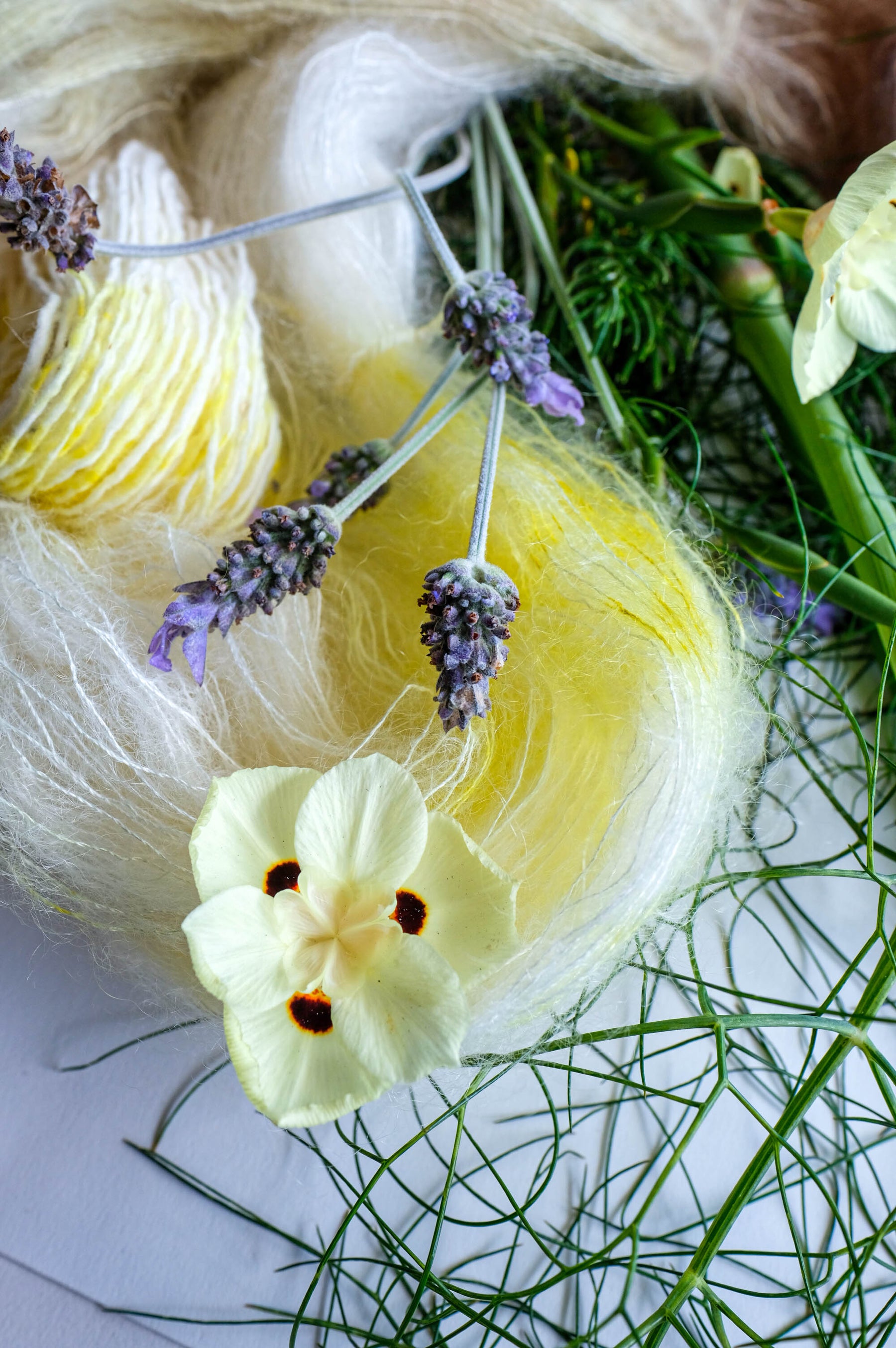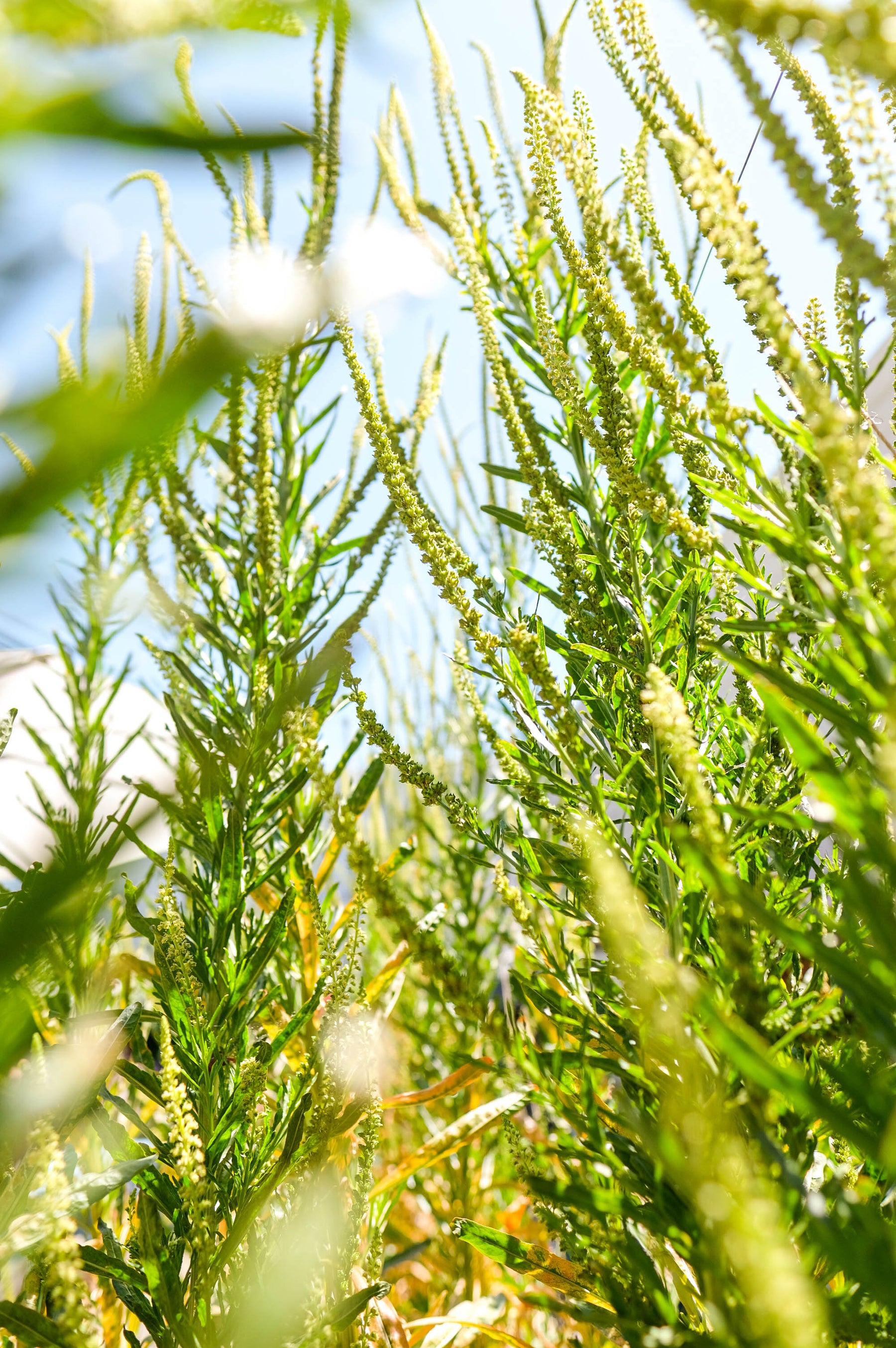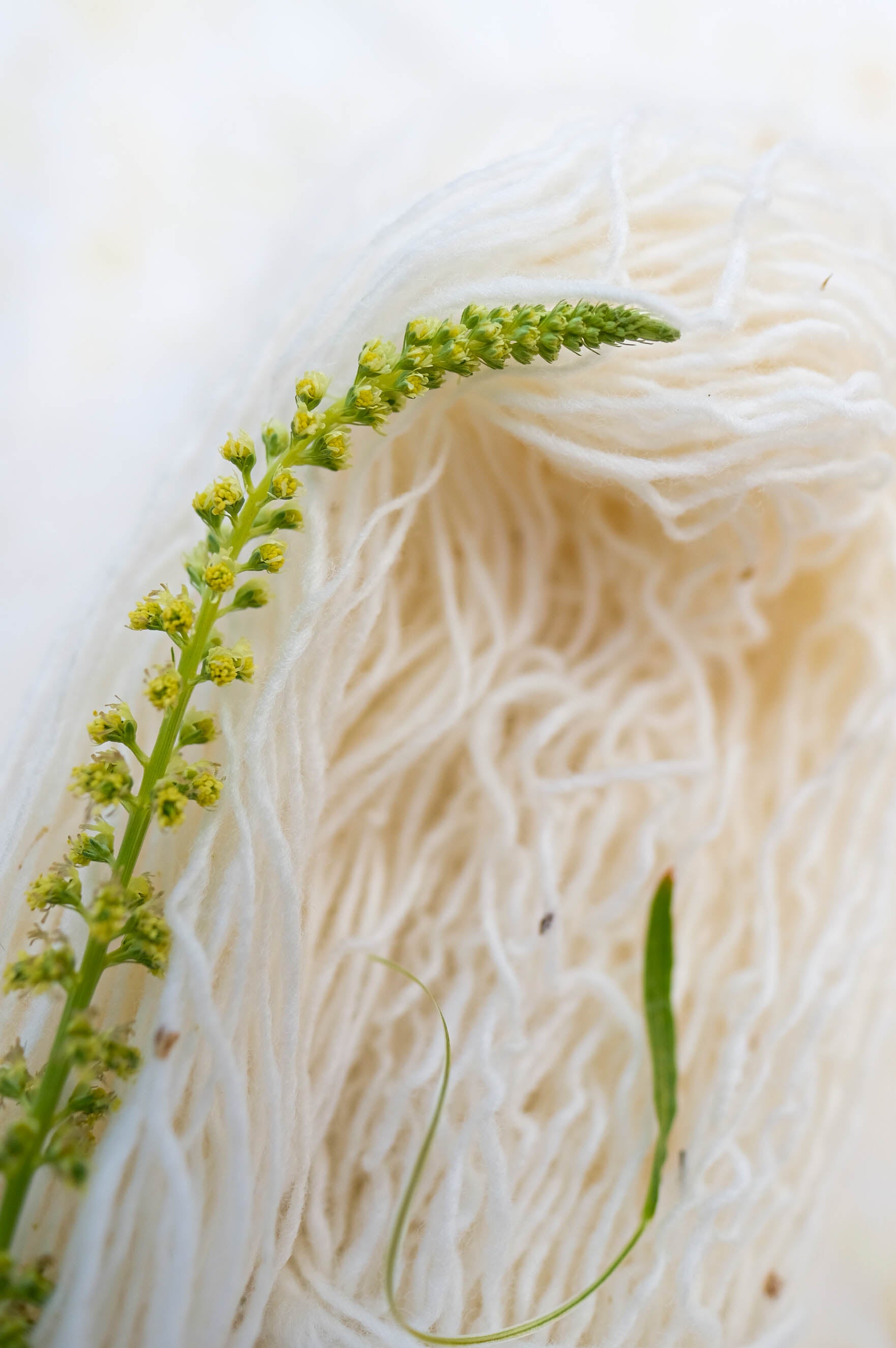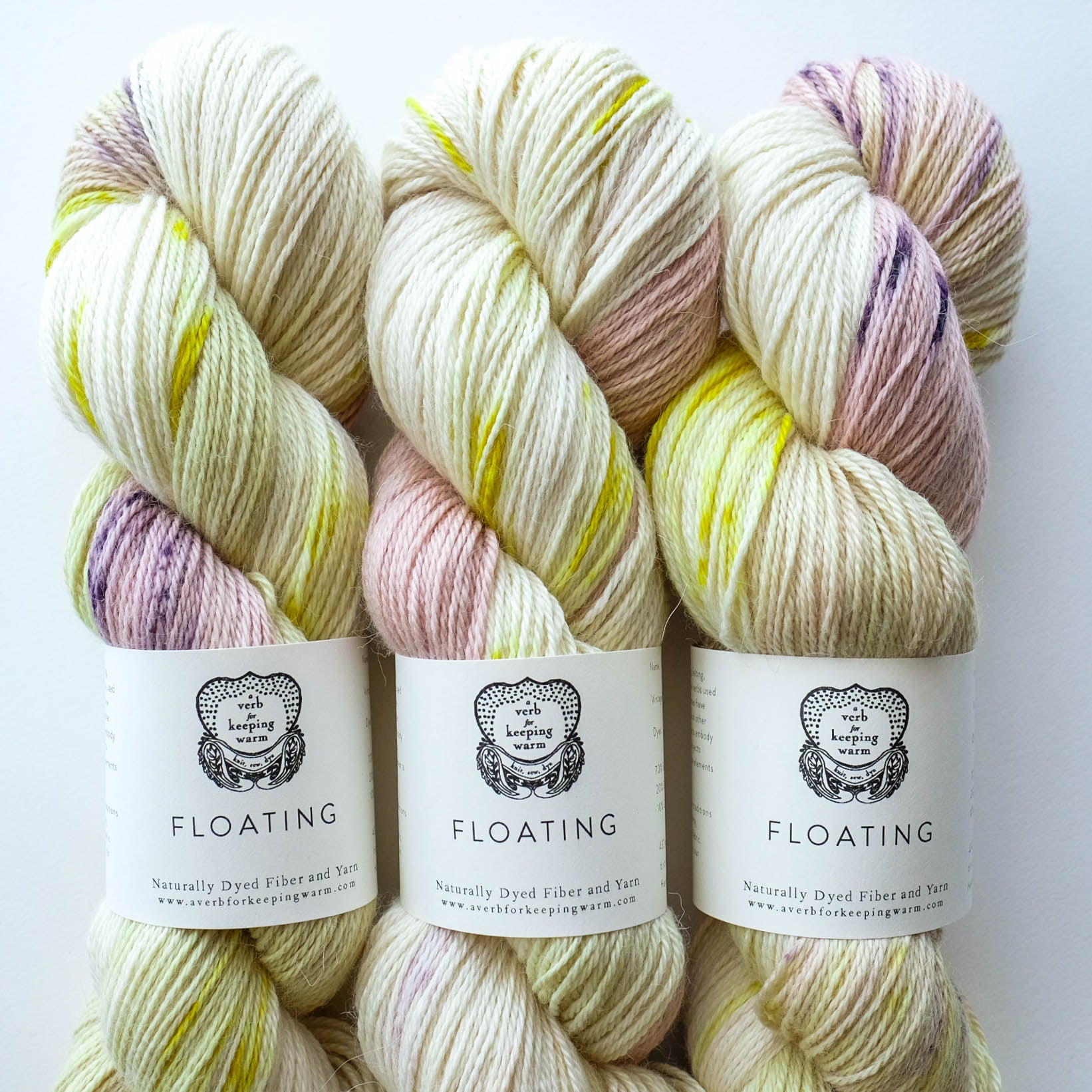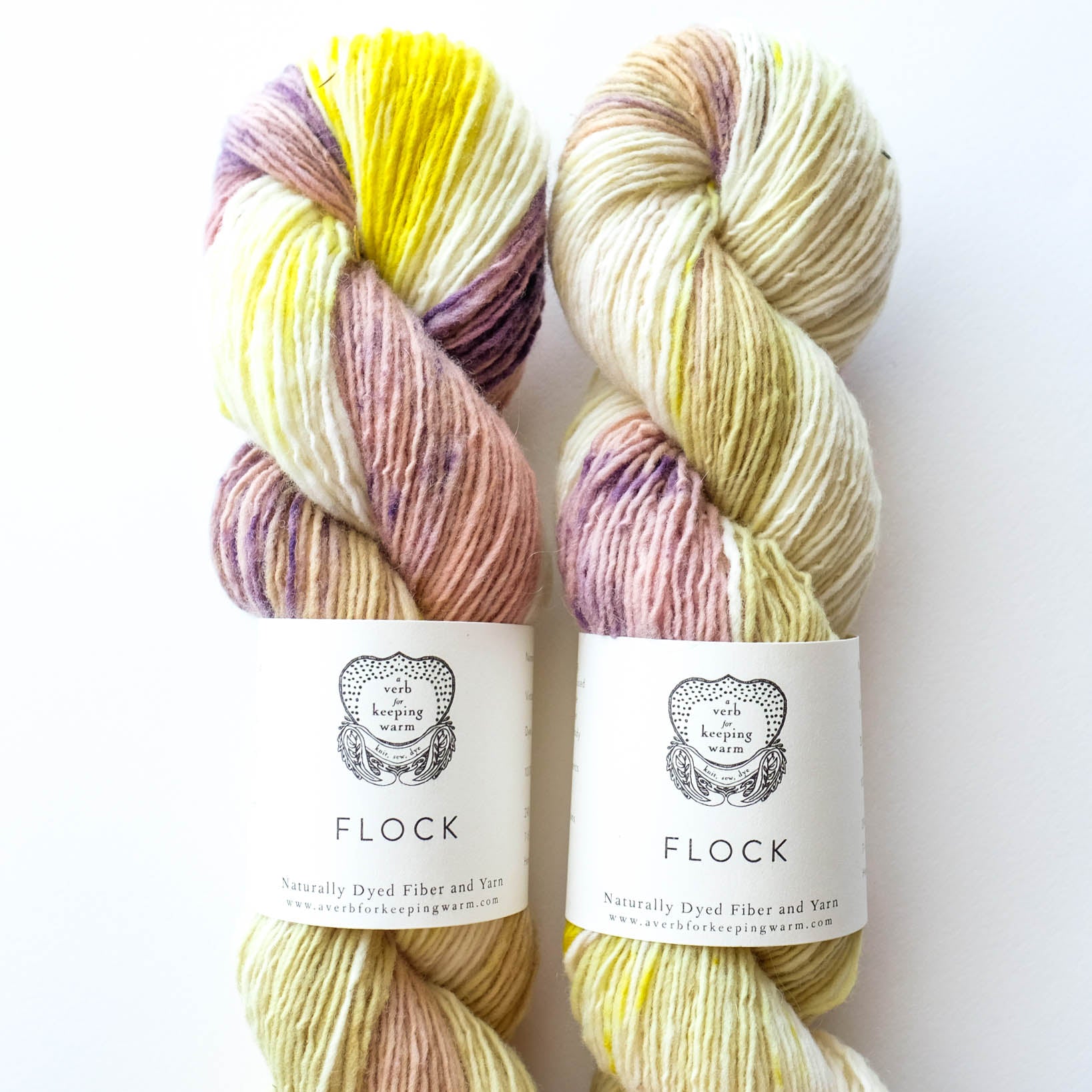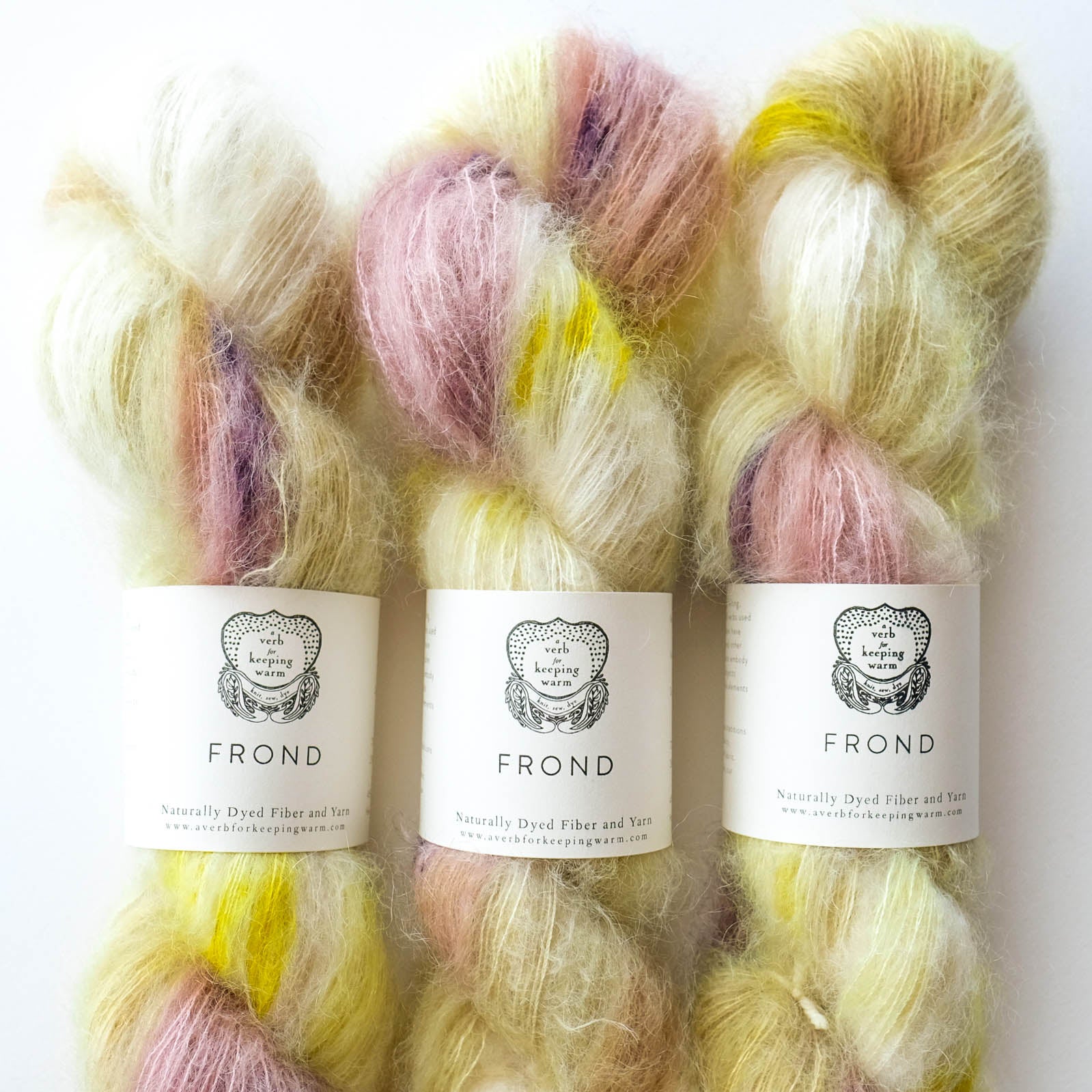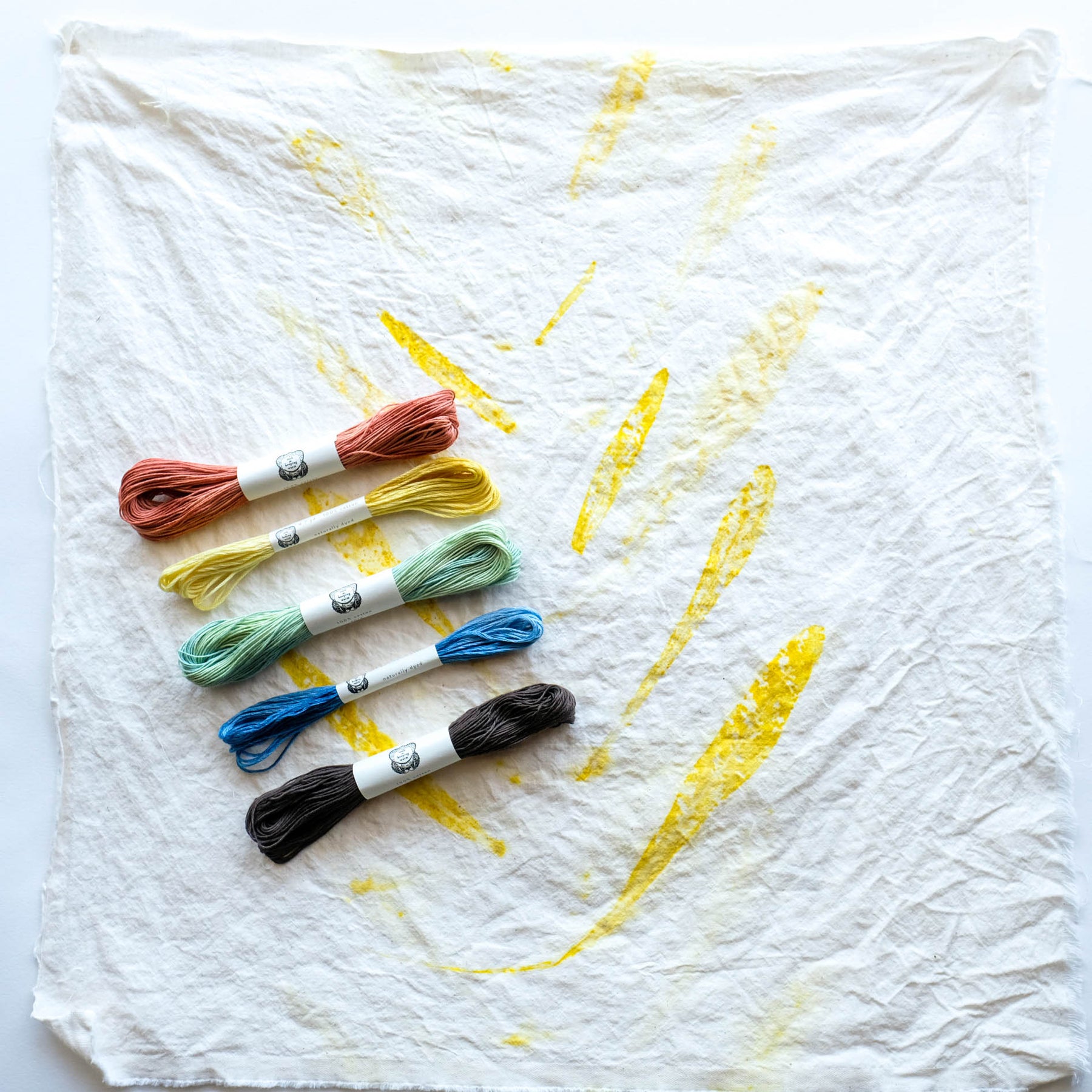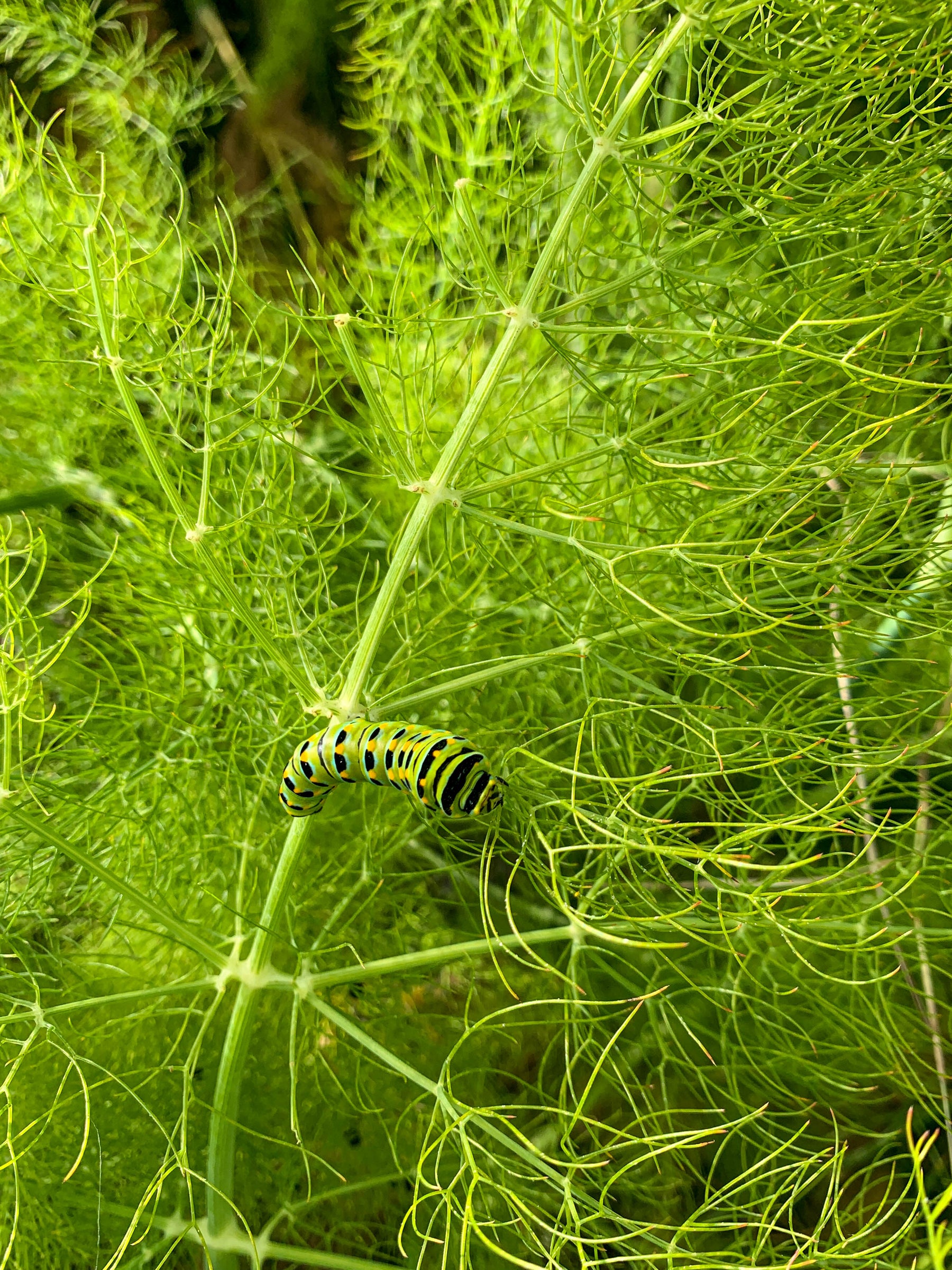 2023 Summer Solstice Special Color: Fennel Fronds and the Beat of the Butterfly's Wings
2 units left
Pickup available at 6328 San Pablo Ave
Usually ready in 24 hours
2023 Summer Solstice Special Color: Fennel Fronds and the Beat of the Butterfly's Wings
Floating
6328 San Pablo Ave
Pickup available, usually ready in 24 hours
6328 San Pablo Ave
Oakland CA 94608
United States
Happy Summer Solstice!
This year's colorway is inspired by the Swallowtail butterfly, its host plant, fennel, and tiny lavender flowers found throughout the garden. We used weld, a dye plant growing in our garden, to create vibrant yellow!  
Summer is my very favorite season. I love the long light-filled days when I can take a nap and still have time to get up and garden, and walk, and cook, and make. And I adore being warm.
Solstice is a beautiful time to slow down, notice nature's rhythms, and a day I spend looking at and reflecting upon nature to help realign my energy and being. So though the world has been spinning quite quickly in the dye studio, Sarah and I carved out some time to get together and reflect upon what outside is capturing our attention. Instantly we thought of butterflies and the weld plants growing in the dye garden. And from there we moved towards translating our inspiration into today's featured Summer Solstice 2023 colorway.
~~~
At Verb, we are smitten with pollinators; often small and overlooked the butterflies and bees are what makes a garden hum. Without them the flowers won't make seeds to grow new plants and vegetables and fruits won't develop. I find the more closely I observe the fine details in my garden, like the fine lines on the Swallowtail's wings and the little itty bitty flowers found along the spike of the weld plant, my stresses and worries recede, and I can relax and breathe more deeply. This year, more than any previous year, we are growing more plants and flowers beneficial to pollinators.
Along walk from my house to the studio, I saw a neighbor's front yard filled with lime green fennel stalks and fronds. I had read that Swallowtail butterflies love fennel. Well, I was walking home the other day and stopped at the fennel patch, and as my eyes adjusted, there was a gorgeous swallowtail caterpillar crawling along, getting nice and fat. Soon it will create a cocoon and transition into a butterfly. And once it is a butterfly it will hop from plant to plant, helping disperse pollen. This cycle is really quite miraculous. As so many things can and do get in the way of the butterfly's metamorphosis, and yet, nature pulls through.
~~~
The dye garden is bursting with weld, with its long spikes covered in yellow flowers, framed by sharp chartreuse leaves. The bees are in heaven, crawling up a spike, then down, flying a few inches to the next plant, their legs covered in what looks like fuzzy, yellow, knit legwarmers.
Weld makes the most vibrant, striking pure yellow. Sarah and I thought it would be fun to tuck a spike of weld flowers into the yarn and heat it. As you can see from the photos above, pockets of bright yellow are found sporadically throughout the skein. A fun and different way to create speckles and a pop of color as well as to highlight the yellow found on the Swallowtail's wings.
We then applied a wash of green to represent the fennel fronds, a splash of lavender for lavender flowers, and purple speckles to represent the spots found on the Swallowtail.
This colorway is available on three yarn bases:
Love wool? Then Flock (290y / 50g) is yours. Made of US Rambouillet sheep's wool, Flock is cozy, soft and homey.

Frond (50 g / 459 yards), a radiant beam of halo and glow, due to its content of 72% kid mohair and 28% silk.

Floating - 70% Alpaca ~ 20% Silk ~ 10% Cashmere - Our softest yarn, with 437 yards / 100g, you can surely use it to create a single skein scarf or shawl. Or combine it with another yarn, to create an even larger piece, such as Swoop!
~~~
We also created a special stitching mediation kit!

Using the same inspiration, though with a fun, different expression due the difference in materials.
Since we had a piece of fabric to play with as our canvas, we harvested leaves from our weld plants, laid them on the fabric, and steamed them. Unrolling the fabric, due to the placement of the leaves, and the way they overlap, they resemble the weld plant.
The palette of embroidery floss and sashiko thread use the same colors as found on the swallowtail: a gentle gradient of yellow, indigo blue, warm orange, and black. We also include a hank of vibrant green (made with weld and then overdyed with indigo) to add in the fresh, juicy greens of Summer.
Our Meditation Stitching Kit comes with a piece of cloth and 5 hanks of threads all naturally-dyed in our Oakland studio.  Use the cloth as a canvas, the threads as your paints to stitch designs and patterns that call to you. Remember to take nice deep breaths and release any stress you may have. Use your stitched cloth as part of a quilt, a patch for your clothing, turn it into a pillow. or use it as a wall hanging.
This is our way to share our plants and sunshine with you. Sending you much love and warmth!
When working with yarn dyed with indigo, it is common and natural for the blue dye to rub off on one's hands while sewing. This is called crocking. Although the goods have been washed, it takes pressured contact to release the extra indigo dye. Your handwork is part of the indigo dyeing process. The blue dye can be removed with hot water and soap. From working closely with indigo dyed materials through the making process, typically, the excess dye has been removed, and the crocking will cease.
~~~
Please note the fiber content of the material you are working with, and follow the applicable instructions: 
Cotton or linen - Machine washable on cool cycle with pH-neutral soap. Lay flat to dry.

Superwash Wool - Machine washable on cool cycle with pH-neutral soap, though hand wash recommended. Lay flat to dry.
Wool and Wool blends - Handwash only in lukewarm water with pH-neutral soap. Lay flat to dry.
Yarn can be exchanged within 45 days from when we contact you to pick it up (for curbside pickup) or from the day that we ship it for store credit only (less any shipping costs) as long as it is in its original condition (ball band in place). After this time period, yarn can no longer be exchanged. The buyer is responsible for all shipping charges. We advise insuring the package as store credit will be given only when the package reaches us. Contact info(at)averbforkeepingwarm(dot)com for a return authorization number.
Yarn that has been purchased on sale or as part of the Pro-Verbial Yarn and Fiber Club is a final sale and cannot be canceled, exchanged for store credit, or returned.
If you would like to add-to-order, please click here to review the instructions. Shipping charges are non-refundable.
If you would like to apply a discount code, please click here to review the instructions. We cannot refund discounts.
~~~
Packages ship Tuesday through Saturday via USPS. Once shipped, you will receive a confirmation email and tracking number. Please use the tracking number provided and contact the shipping carrier directly with any questions about transit and delivery. 
US ORDERS
Please select the insured option at checkout to ensure compensation for a lost package. Once the package has been picked up by the shipping carrier, we are not responsible for lost, stolen, or damaged packages. We do not offer refunds or credits for lost or stolen packages.
If you select an insured option and need to file a claim with USPS, we will provide you with documentation needed to complete your claim. Packages are insured for the order total. If your package is stolen, contact your credit card company to receive any possible compensation. 
US orders $125 pre-tax and above:
Free - Ships in 5 business days, uninsured
$5 - Ships in 4 business days, insured
$12 - Ships in 3 business days, insured
US orders under $125 pre-tax:
$9.00 - Ships in 5 business days, uninsured
$11 - Ships in 4 business days, insured
$20 - Ships in 3 business days, insured
INTERNATIONAL ORDERS
All international orders are shipped uninsured USPS First Class Parcel Post. We are not responsible for packages which are held in customs or lost. International orders may incur customs fees. We are not responsible for fees you may incur. International shipments can take two months to reach their destination. We caution against placing an order if you live outside the United States. At this time, we are unable to ship to the United Kingdom due to the complicated VAT situation. 
Canada: Starting at $28*
International: Starting at $35*

*For packages weighing 2 pounds plus, we will invoice you for additional shipping charges. Contact us for a quote.
CURBSIDE PICKUP
To pick-up your order at our shop, when checking out, under shipping method, choose Pick up at our Oakland store - 6328 San Pablo Ave.
You will receive an email when your order is ready. Orders placed Tuesday-Saturday are typically ready within 2-3 hours. To pick-up your order, come to the shop between 11am - 3pm, Tuesday-Saturday. Knock on the front door and give us your name. 
PREORDERS
Preorders ship 3-4 weeks from the order date. If you ordered additional items, all items will be shipped with your preorder. If you would like those items shipped separately, please place two separate orders.